It can be difficult to ask for help.
That's why I want to make it easier for you to get support.
Perhaps our stories as mothers are similar.
With the birth of my first child, at 38 years old, I was thrown into the world of sleep disruptions and deprivation, and it was a challenging time for all our family. Balancing full-time work and caring for my child while maintaining expectations as a new mom was challenging.
Four years later, after the birth of my second child, I found myself once again struggling with sleep deprivation and feeling overwhelmed. I realized the importance of establishing a gentle sleep routine for my baby, and that's what inspired me to become a sleep coach.
As a mother, I felt compelled to find ways to provide the best support possible not only to my child but also to others experiencing similar challenges.
Having experienced postpartum depression myself, I came to the realization that gentle sleep coaching wasn't sufficient in helping mothers cope with their struggles.
That's when I decided to expand my knowledge and become a Doula and Anxiety Coach.
I want to provide mothers with the kind of love and compassion that they deserved during this critical time in their lives.
Furthermore, as an Italian with a background in cooking and a profound love for food, I am thrilled to provide SOS Feeding support to families experiencing feeding difficulties with their toddlers.
At present, I reside in Dubai, the vibrant city in the United Arab Emirates, with my spouse and our two children.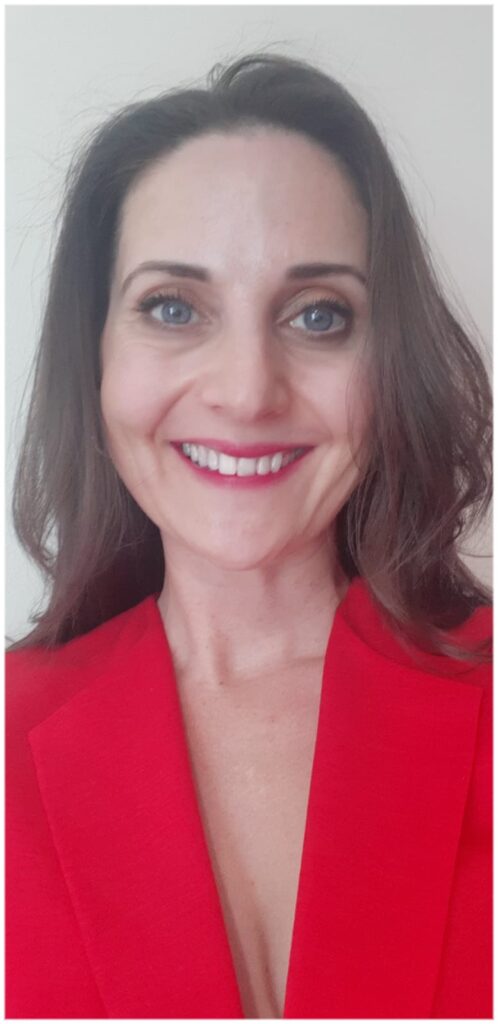 Certified Gentle Sleep Coach  
Certified 0 to 5 Months Old Gentle Sleep Coach 
Certified Doula Nurturing Birth UK
CPD Certified Professional Anxiety Coach  
Languages: Italian / French / English /  Spanish
every mother deserves bespoke support and solutions.
My goal is to establish a secure and comforting environment for mothers and families who are looking for assistance with their children's sleep while also offering concrete support during the critical first years of parenthood.
Why should you consider hiring a doula?
There are many compelling reasons why you may want to consider hiring a doula for your childbirth experience. As a doula, I  provide continuous emotional support to you and your partner, and can be an invaluable source of comfort and reassurance during the first weeks after the birth of your baby.
Additionally, I can help you communicate your needs and preferences to your healthcare provider, and advocate for you and your baby's well-being. 
Is important to consider a doula if you feel you need support in the postpartum period, including emotional support, infant care, and breastfeeding support.
Anxiety and motherhood: Let's talk about it
For a mother of a newborn, anxiety can be especially challenging. Caring for a new baby can be overwhelming, and you may experience heightened anxiety during this time. Some common concerns may include worrying about the baby's health and safety, sleep patterns, feeding, and meeting the needs of their child.
It's normal to feel anxious as a new mother, but it's also important to prioritize your own well-being in order to provide the best care for your baby.
It's important for me as your anxiety coach, to provide you with supportive and non-judgmental space to explore your feelings and develop together effective strategies to manage your anxiety, allowing you to better care for yourself and your newborns.
Learning the best practices to help your baby sleep
is a lifelong gift
The Gentle Sleep Coach method created by Kim West provides a gentle and effective solution to help parents and children achieve healthy and restful sleep. The goal is to teach the child how to fall asleep on their own and how to self-soothe during night wakings, while maintaining a secure and loving bond with the parents.
The main focus of the Gentle Sleep Coaching is to offer exceptional support to families with newborns aged 0 to 5 years old. By prioritizing the well-being of the entire family, the program strives to understand their unique needs and provide valuable assistance specifically related to sleep matters.
The program not only provides the most comprehensive knowledge about pediatric sleep but also offers training sessions that cover a wide range of topics, including Post Partum Depression, Breastfeeding, GERD (Gastroesophageal Reflux Disease), and Sleep Apnea.
What about table manners for children?
Learning how to eat is a daily relationship-building process.
Why you should consider improving your child's mealtime feeding experience.
You well know that proper nutrition is crucial for a child's growth and development. Children require a balanced diet that provides them with essential vitamins, minerals, and nutrients to support their physical, cognitive, and emotional development. Eating a variety of healthy foods helps children maintain a healthy weight, strengthens their immune system, and improves their overall health and well-being.
But is not only what they eat, but how they eat that will develop their relationship with the food along their life.
Through SOS Feeding, I motivate parents to give their children the necessary attention to their feeding needs and promote intuitive, autonomous, and joyful eating, which ultimately helps establish a positive relationship with food.
My culinary experience spans over 15 years and encompasses four countries.
Believe it or not, I've spent 15 years of my life working as a chef!
You know as much as I do, that children are the most picky and honest clients when it comes to eating and sharing their feedback. That's why it is crucial to pamper them at the table and avoid taste boredom.
I have a genuine passion for food and I believe that sharing a meal together can be a wonderful experience for everyone, regardless of their age. I would love to help you and your family discover the joy of enjoying good food and great company at the table."